Former Environment, Science and Technology Minister, Prof Kwabena Frimpong Boateng, has revealed that top officials of the New Patriotic Party (NPP) including Ministers in government at the seat of government are involved in the illegal mining activities popularly known as galamsey.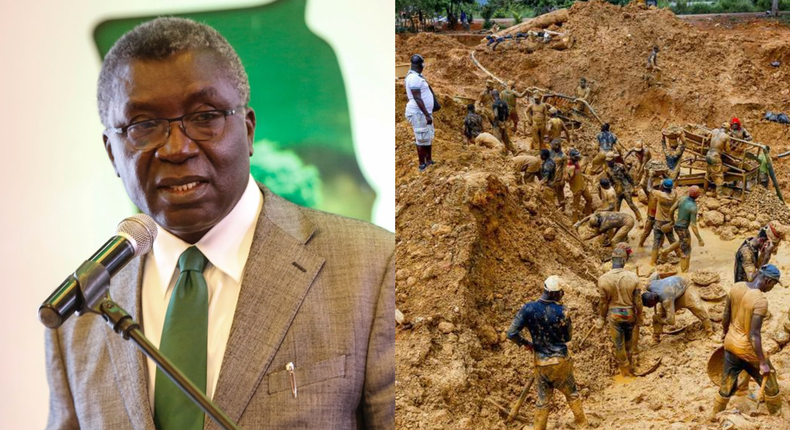 He explained that some of the government appointees who supervised his ousting from the Ministry continued the illegal mining.
In an interview with state broadcaster GBC on the allegations of some 500 missing excavators from galamseyers in 2020, Prof Frimpong Boateng said it was a fabrication by some individuals in government to get him out of the way.
The excavators seized from illegal miners were said to have gone missing in February 2020 prompting an investigation into the circumstances surrounding the excavators.
Calls were made for the missing excavators to be traced and accounted for while persons responsible for the disappearance of the heavy-duty equipment were arrested and prosecuted.
Since then, little or nothing has been heard about the matter.
Earlier, an audio recording surfaced online with the voice of Ekow Ewusi and Prof. Kwabena Frimpong Boateng.
Prof. Frimpong-Boateng in the recording is heard allegedly agreeing to the request of his party folks; the green light to engage in galamsey.
But Frimpong Boateng requested the Criminal Investigations Department of the Ghana Police Service to probe the missing excavators.
He indicated that dozens of excavators that were seized from the illegal miners have disappeared from the district assemblies where they were being kept.
Unhappy about the seeming silence on the matter since 2020, Frimpong Boateng said "Let me tell you that I did not take one excavator for anything, they know the truth. Now things are coming up, we know those who are behind it and the party people who are there, people in government including Jubilee House who are doing galamsey and so on, even now.
"There was an orchestrated scheme, even within the party and government to get me out. Why is it that when I left now everyone is in the forest?"
Meanwhile, President Nana Addo Dankwa Akufo-Addo has reiterated his commitment to end galamsey in the country.
He disclosed that no government in the history of Ghana has embarked on a more rigorous galamsey fight than his government.
Pulse.com.gh